You're Much tougher than you might think
What doesn't break you, will surely make you stronger in the end. Romans 8:18 ESV / For I consider that the sufferings of this present time are not worth comparing with the glory that is to be revealed to us. 
The idea of going through pain, heartache, long-suffering is not pleasing nor is it comfortable to anyone. No one in there right frame of mind loves pain. It's excruciating to say the least. But the unfortunate side of it is that we all at some point and time in our life we must bare the blunt of it more often then desired. The question is, why we must endure it, and what we are to learn from the affects of pain? Suffering is one aspect but feeling the intensity and agony of it is another. We try to rationalize it, and sometimes try to avoid it or deny that it is happening altogether. But if you're honest with yourself it just want work that way. We must learn how to embrace or accept suffering and the various pains of life. Whether it's through natural causes like the death of a loved one or physical affects of decisions gone wrong or maybe even what someone or something caused adversity against you; know that it did not destroy you. No matter which scenario your suffering and pain derives from, you still have the ability to overcome and gain strength in all your facing to endure.
The most important principle or lesson from this expression is to understand life is full of unexpected misery and pain just don't add to any of it by making some unnecessary moves or decisions. Even if you have made mistakes you can recover from it, don't waddle in self pity. Pick yourself back-up and begin rebuilding, there is a lesson to learn in all of it. Wisdom is the essential and is the common denominator and but suffering is inevitable the thing is how to maintain your composure and a level of maturity through all adversity renders a victory in the end. Remember "Jesus" suffered the greatest on the Cross for all mankind but he never lost His dignity at any moment of the journey. Through the process He remained  true to Himself and the ultimate promise of His Heavenly Father that He would be with Him through it all. And He said if you suffer with Him, you shall also reign with Him. Pain and suffering may come but don't let it make you crumble into pieces under the pressure. You are designed to withstrand most any force or thing in this life. Your destiny is to share in the glory of Jesus Christ our King in the end. May the grace of God be with you all daily in everything you go through. AMEN!
To know Suffering is to understand Greatness, in that suffering you come to know true Strength!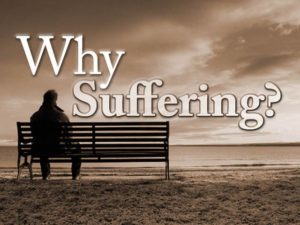 Philippians 3:10 King James Version (KJV)10 That I may know him, and the power of his resurrection, and the fellowship of his sufferings, being made conformable unto his death;