TotAl Perfection & only just PERFORMANCE are pOlar opposiTes but the wisdom of God Eludes A GENUINE heart to render yOur best effort in all things
Never settle for just mediocre or just good enough, honestly striving for your best requires character & integrity each step towards perfection

James 1:4 – But let patience have [her] perfect work, that ye may be perfect and entire, wanting nothing.
Throughout life we get a little 😫discouraged when things don't go our way or turn out the way we think they should be. It makes you angry 😤 I know, but blowing some steam off still doesn't fix anything when it's all said and done its still remains the same way. But to our dismay or what we perceive it's not suppose to change much anyway. Yes we plan,📅 we even practice mentally on what we will do in certain events we go through. But have you done anything towards improving yourselves in the process? Maybe it's not the events or obstacles we're confronted with that hinder us, possibly it's our own hang ups that cause us to trip up along life's journey to our destination that has resulted in a destructive path for ourselves. If we take the time out to reassess our mistakes, 📝reevaluate our efforts and actions that led to these set of circumstances, then we can recalculate what to do in perfecting our steps each day. PROGRESSION is to PERFECTION as "listening 👂🏻is to understanding" which renders comprehension in our advancement as a more defined individual who can accomplish overcoming life's most challenging self-obstacles along the way.
Oh yes, we can be are only worst enemy without any help for anyone else. Our mentality can defeat our ability to become a better version of ourselves in anyway. It doesn't matter where you came from or where you are now God's sees more for you than you are now. Every experience, every issue is there to teach you, more importantly to Perfect you in every possible way, mode you into who you were designed and created to be on earth 🌏. Unfortunately our planet is full of underachievers and slackers of all ages and demographic, so don't succumb to the statistics that leave us lacking in obtaining our true value and purpose we're destined and call to be 💯 PERFECT and excellent in our minds, body and spirits we are a chosen people of great Possibilities. The word of God says let this mind be in you which was also in Christ Jesus our Lord. If you so desire you can eliminate every fawl, error and mistake that labels you a failure or incomplete in being who God called all of us to be just like Him perfect in all things. 
RLW Ministries: Sometimes we religiously go after things that are of little or not much depth only leaving ourselves feeling hallow in the end. But the most important things we should value often have little or none of our focus. If your trying to improve upon yourself you have to reposition and refocus yourself on something more meaningful. In the long run 🏃🏾‍♀️ 🏃🏾 it will carry more weight and substance a much greater distance towards your 🥇goal of excellence. It's not how well you've done in one single event or situation throughout life that equates to being excellent it's perfecting a series of events or deeds that make you perfect in your efforts. An Excellent spirit; is one who wants and strives to do better against all odds persevere until they accomplish that desired achievement.
You can obtain what others only dream of if your heart and mind is set for success. Never settle for a little, never be comfortable for mediocre and never stop 🛑 at just being pretty good. Be absolutely PERFECT, yes it's obtainable, indeed it's POSSIBLE, no doubt you can obtain it if you try long enough, press hard enough always look up and never doubt what GOD has told you, you can do the 👍Impossible. You don't have to settle for improfections, you life has more meaning then that. No one can make you stay broken God is a mender of all broken pieces..,No matter where you started or where you at now, is not where you are intended to end up in the end. Asthe Bible says: you're latter shall be greater than the forner. Hold on Greater is on the way! Strive for excellence achieve Perfection. 🙏RLW Ministries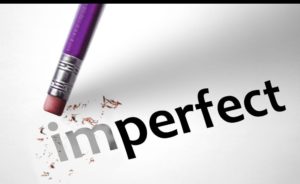 Philippians 3:12-15 – Not as though I had already attained, either were already perfect: but I follow after, if that I may apprehend that for which also I am apprehended of Christ Jesus.
You walk around life aimlessly, you wondering every area clueless of what to do next, but please don't waist anymore time on improving yourself. Your life is singular you want get another, your purpose is specifically yours there's not any other quite like it. Even your fingerprint  & footsteps are uniquely yours there want be another exactly like you. You are INDIVIDUALIZED  and distinctively characterized by what you do and say so make a valiant effort in becoming someone that pushed for overachieving the insurmountable hills and valleys that challenged your journey each day. REMEMBER you are somebody, start walking 🚶🏻‍♀️ 🚶 moving towards obtaining a little bit of your goal of excellence each step you take, bringing youdelf closer to the ultimate marker of 🥇Perfection. Unless you strive for it and long for it, and have passion for it, you will never find your self accomplishing any merits of excellence on any given day. You must do all you can to be all you can daily pursuing what God says you can do, but not adhering to what others said you can't do, be PERFECT.! 👌
When you strive to get better; you'll most likely become even better than you imagine. Make good strides to be Perfect, pride yourself on Excellence at the end of the Day
Matthew 5:48 – Be ye therefore perfect, even as your Father which is in heaven is perfect.