A new bEGinning is a open OppOrtunity to Transition for a better fresh new start 
As the saying goes, when God closes a door He always ushers you into a brand new one

Revelation 21:4 – And God shall wipe away all tears from their eyes; and there shall be no more death, neither sorrow, nor crying, neither shall there be any more pain: for the former things are passed away.
I bet sometimes your thinking 💭 God what am I supposed to do now. Nothing ever turns out the way I think it should or could be? Somehow, someway you just keep pressing on and moving forward despite the adversity and the attacks that seem to affect you emotionally and mentally. In all your facing in life, things often seem unbelievably too tough to imagine some kind of relief. Often we're so beat-up, so discouraged and confused so long why we're having to endure so much pain we sometimes loose some sense of hope. It gets difficult to see the possibilities that we will make it through it or get out of what is oppressing us or depressing us so intensely daily. We're not just sad 😭 at our own circumstances; we become very despondent as if there's no solution or different way of thinking that if things will get better or will result in our own DELIVERANCE.
But than we remember what we have come out of before. And then God also reminds us too, "that if He did it before, want He do it again." That proverbial sun ☀ will shine again in our life. Our yesterday will soon turn into our tomorrow and our today will become yesterday's bad news but also our present testimony. One thing we have to know that just because things look bad today or they weigh HEAVY on you today does not mean they will stay the same. There's a plan for you, there's a new door 🚪 there for you to walk through with the promises of God awaiting to impact and enrich your life with a great manifestation. The 🙏Favor of God is upon you, He did not over-look 👀 your troubles, He did not ignore your struggles and persecution. In this time of NEW REVEALATION you will encounter change for the better. Life empowered for greater. Let His spirit direct you, uplift you and equip you for the new beginning you're experiencing now in such a profound way.
RLW ministries: Just because one chapter is closing and another one is unfolding don't be afraid to welcome it in your life. It's all to your good! As we encounter various things on our journey we have to be willing to embrace it all fully. Sometimes if we're not careful we can miss our window of opportunity all because we have become too complacent or so use to the conditions we're in. Often we're burying our faith and potential to advance in the sands of life. What we're facing now is preparing us for GREATER!
The things we're enduring now has caused us to grow and develop for more Divine meaningful purpose to come. You must know your life is going to consistently change, so  you must learn how to adapt with the Change irregardless of the magnitude of challenges you're confronted with daily. As  you encounter these life altering experiences know that if your willing and flexible despite your undesirable circumstances GOD has a awesome New Plan, He wants to unfold and reveal to you in due season. So you have to be ready for CHANGE!!! It's in this change you'll  find that it's the prelude to a New Beginning transitioning you into your purposeful Promise of many blessings awaiting you, for all you've gone through God will move you into your season of peace, joy, abundance and miracles that will over take you. As you step forward out of your past or present state of experiencing suffering, may you transition into a new life full of blessings! You may think you intended to just be a caterpillar 🐛 contained at ground level but your so much more, there's a metamorphis designed to turn your life into a beautiful free-spirited butterfly 🦋  🙏 RLW ministries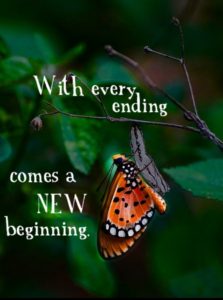 Isaiah 43:18-19 18 Remember ye not the former things, neither consider the things of old.
19 Behold, I will do a new thing; now it shall spring forth; shall ye not know it? I will even make a way in the wilderness, [and] rivers in the desert.
See its nothing wrong with change, but there may be some concerns with an individual that can not or will not adapt with changes. Sometimes God is changing things for us, giving us the green light to step forward and transition us into our next assignment or season of purpose but we have not acknowledge His influence as our guiding spiritual compass. We find that if we are comfortable in the switching of gears in life, we're ok. But if things present any friction we become uneasy 😳 at the outcome because of the abnormal conditions. If we remain open and willing God will make all things much easier and smoother in understanding, revealing all things in full disclosure to us. As we trust His leading know that we can trust His decision to put us in a much better condition than we are right now. So if something's have to end, if some doors have to close, and some people have to be cut out your life it's still ok, Let it all GO! There's  something or someone with a much better situation better fit for your life as you transition into your full purpose. GET READY for change, get ready for growth and GET READY for REBIRTH and a new beginning right now.
In order to advance or move forward in life you must be able to realize and recognize that change for the better is a must, and start to move towards it

Job 8:7  ESV And though your beginning was small, your latter days will be very great.