Life may be full of uncertainty but Remain thankful even in the mist of all adversitY
Challenging circumstances come as no surprise but thank God it's He who helps you to endure it 
1 Thessalonians 5:18 – In every thing give thanks: for this is the will of God in Christ Jesus concerning you.
Remain THANKFUL, your troubles didn't bury you. You're still here dispite what has happen to you. We all are faced with daily challenges, trust me you're not that special, you're not the only one going through. Huh! Lol..🤔 guess it almost felt like it at times you were though? The mountains 🏔 seem to get high to climb to, and valleys ⛰ 🏔 seem too low climb up out of. But it's not what's in front of you that's hinders you it's what's behind us that troubles you. Don't let FEAR, get the best of you. We soon forget how God bought us out of that too. Nevertheless no matter what the test, you just keep holding on, trials may evolve just to make you 💪🏻 strong. Let others look  👀 at you with inspiration, how is he or she making it through that? It will be because you remained hopeful but Thankul that God will help you make it through.
You have experienced some hard-aches, acquired some head-aches but nothing compares to the joy life has brought to you. Trust in that, reminisce on all of those good things that has come your way. When life gets too hard and the enemy starts talking all the lies in your ear, reminding you about your past will ultimately hinder you. Do as they say. "Remind him of his future 🥵 that gloom & doom is his irreversible sentence" those lies of the enemy did not discourage you, you still have a fire 🔥 that burns deep inside you, your going to be somebody soon some day and no devil in hell or no one can take that from you. No weapon formed against you shall prosper!
Proverbs 24:10 – [If] thou faint in the day of adversity, thy strength [is] small.
RLW Ministries: May I offer some advice, some positive perspective for life that may help and encourage you along the way? Don't walk through life with a lot of unnecessary 😢 woe is me's, slob stories of what if I had this or could be that. You are who God made you to be, just perfect 👌 for the purpose, absolutely smart enough to get things done ✅ and the real ability to assure yourself of accomplishing anything. It's easy I know to look at other's achievements and think only if I could or only if I had that resource to work with, then I too could be somebody great! Stop 🛑 that, you are somebody GREAT! It's time to start believing & trusting the GOD you serve has put in you all you need to succeed. Work with the little you got, cope with what you have to deal with, manage with the resources that are available to you, then watch God increase your how to. 
You see it's not who you were that gets you where you need to be, it's who you are right now that secures your arrival to your DESTINY! If you look at somebody else's success you will never measure up to your own. When we try to gage this and anticipate that you leave room for yourself crumble under the pressure. Just have FAITH that God hasn't failed you yet, and He never will. You might not have the best job, all the money 💰 you want, the perfect mate, and the most well behaved adorable kids, but you do have much to be so THANKFUL for, dwell on that. We often times harp on the negative 👎 too much, accentuate the "Positive" more. Cherish what you have already not regret what you don't. If want to see things get a little better begin believing in yourself that what your working towards will soon turn in your favor. God's not done with your life yet, don't loose hope in all you're going through. He's plan has always been to prosper 🙌🏼👏 you, just remain focus and be THANFUL for what God has already done for you. Adversity arrives in many facets of struggles but overcoming them all still depends upon what you do. Your success is solely upon your shoulders not anyone else.  🙏RLW Ministries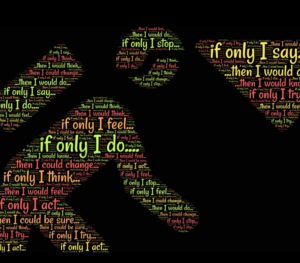 Psalm 34:8  O taste and see that the LORD is good; How blessed is the man who takes refuge in Him!
You can't get anywhere remaining sick & tired of yourself without changing your action or mindset. It requires progression. You can't achieve goals without first applauding what you already accomplished. Just because you had to struggle to make it through does not mean it wasn't a blessing to you. These ADVERSITIES are designed to impact your Faith, build-up your Hope and improve your Character. What this is doing to you is not out of a negative affect, it's all to make you become who you were called to be, a person with extraordinary abilities. So you just keep working 🛠 towards it, it's closer than you think 🤔 keep building brick 🧱 by brick it's securing a strong foundation for you to plant your feet 👣 on.  Even in the storms 🌨💨 of life you held on just to face another day, that's what got you through.
Begin to thank God He didn't let you drown;  🌊 🏊🏽‍♂️🏊🏻‍♀️sinking in a ocean of dispair you remained level-headed with your eyes focusec on Heaven where JESUS is your help. Whether He calmed the raging 😤 sea 🌊 or He helped you to GPS-navigate through it, know God has not left you alone all by yourself. It's when you look around and you have no one else, GOD is still there holding you hand just so you can make it. You can't let go you can't loose hope, when you do your cancelling out your hope for a brighter ☀️day. Problems may seem to come out  of no where but what will do to assure you not let fear keep you from getting through it all. Keep reaching for your success, keep loooking to the "Author and Finisher of your FAITH! " ✝️ JESUS Christ our Lord! 
Psalms 34:19 – Many [are] the afflictions of the righteous: but the LORD delivereth him out of them all.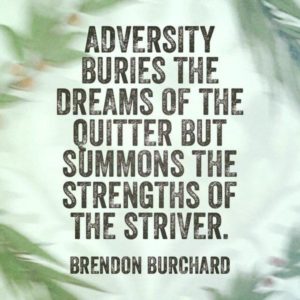 What you thought your could not cope with, handle or deal with, God gave grace to ensure you can make it
James 1:2-4 Consider it all joy, my brethren, when you encounter various trials, knowing that the testing of your faith produces endurance. And let endurance have its perfect result, so that you may be perfect and complete, lacking in nothing.