Prayer activated with faith makes God move in Many mIraculous ways 
There's nothing in life that can not be restored or delivered out of, through the Power of Prayer 
Luke 11:9 – And I say unto you, Ask, and it shall be given you; seek, and ye shall find; knock, and it shall be opened unto you.
Life is not as bad as we think it is, bad situations and terrible things happing every day are not our designed state of being. Although the trials of life press us way, way down sometime, we can begin to question our true PURPOSE. Well let me tell I've been there more times than I have cared to be. I went through a really rough patch for many years now. But God is turning my situation all around. You see life and the 👺enemy has a way of painting a Ugly picture that leaves a sore spot deeply tucked away in your psychy. You see, after experiencing bad things and battling horrible circumstances so long even the testimony of others you hear about, don't appear that it could be a reality in your life. Even after prayering for a while, I encountered my on doubt setting in, fear, depression and worrying to no end, but GOD! He saw my need and heard me only because I did not stay in that depressive state. I did not totally loose my faith, and despite my short comings after failing myself time and time again, I got back up through prayer and recommitment to maintained who He called me to be, a true servant of faith & DEEDS. See, it's not just who we pray to but who we're willing to bow 🙇 down to in total submission to do His (JESUS) will; even when we're going through you have to put your faith into action in order for God to move on your behalf. While we are yet busy praying and fulfilling our Godly assignment God sees the efforts and He in return meets it, and matches it with a answer of manifold blessings better than we could've conceived or even prayed for, that's the Kind of God we serve. 
RLW ministries: Sometimes we look at our own lives with such 🤦🏻‍♀️🤷‍♀️🤦🏽‍♂️🤷🏻‍♂️disdain feelings of pity and sorrow with the spirit of defeat. Our focus has veer off to the left and nothing we do seem to get better or turn out right for us. How is it, that we have allowed ourselves to become so defeated? Have we lost all hope and belief that life is not going to get any better for us or at least anytime soon? So unfortunately that we have allowed ourselves to loose sight of our VICTORY! It is not in how someone prays for you or how long they do, it's in the 💥 power of who you believe. People can pray all day and night but you have to start praying and believing in Faith yourself. It's in your weakness He is made strong but you got to trust in God when you pray.
Continuous prayer and great effort through faith gets God attention. Not wavering, not doubting nor second guessing. Take your burdens to GOD and leave it don't pick it back up. But press forward with ACTION! There's not wrong with putting your feet forward into what you're potentioning God to do. It's in your works that He moves not in your consistent pitiful state you become empowered. He moves when we do, He acts on our behalf when we go after it first. There's nothing like walking 🚶 🚶🏻‍♀️🏃🏾🏃🏾‍♀️ right into your Divine Promise all because of your faith worked  to activate the prayers you prayed. Don't let up, don't quit, don't doubt, don't give in, you have a hope in JESUS! If your answer has not come yet, keep praying and walking towards it has if it already has. Watch God move and open a door 🚪 for you that will overwhelm you with much joy unspeakable on the other side. Let this be your right now testimony! GOD did it, and works through faith & prayer move it into existence. Don't  let outer influences hinder the impact of your real prayer experience  🙏RLW ministries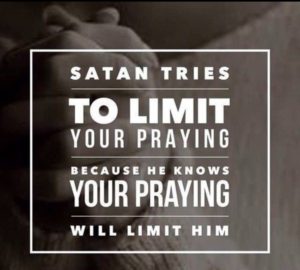 John 15:7 – If ye abide in me, and my words abide in you, ye shall ask what ye will, and it shall be done unto you.
At the end of the day, you are what you speak, your are what you accept and YOU ARE what you pray and believe in. If you see defeat than you will be that, if you speak negatively each day you will become that. What you grip on to tight has a tendency to to become your reality. You will never see a successful man or women accept defeat or bad days as there final chapter of life. You make the headlines to your on victorious story. HINT: No one wants to read or buy a sad sob story with no heroic outcome in the end. No matter how many times you get knocked down or attacked, you better not lay there, you can't just waddle in your mess and expect God or anyone else to join your muddy pig 🐷 situation. Oh no, it's not that kind of 🎉 party! As I once stated before in a previous early post, a older gentleman told me this old adage: "Rod, GOD helps those who help themselves." And just the honest truth. That has stuck with me for nearly a decade now. It's so true, if your looking to see God move in your life, pray but don't set back with your arms folded, you'll be disappointed 😔 every time.
You have to get up, get moving on today in order to change the course of your promising tomorrow. If you've had enough, and sick of being sick and tired, DO SOMETHING about it. Nobody else will but you! Your deliverance starts with you, your hope is already embedded in you, use it. Quit letting things that happen to you in life dictate your happiness. The fate of your destiny is in attitude of your actions. Ask yourself: Will I be defeated or will I overcome all things that try to defeat me? Make sure as each week closes out and as the calendar changes so rapidly month to month leaving the year passing by a destant memory; be one you look back on with a great appreciation and healthy pride that you stepped forward with faith but you utilized those most powerful tool God has given us the POWER OF PRAYER! 🙏May the grace of the Lord always rest upon you.
In life we may encounter many afflicting things, but in all things God has given us a weapon of prayer to overcome it all
Matthew 21:21-22 – Jesus answered and said unto them, Verily I say unto you, If ye have faith, and doubt not, ye shall not only do this [which is done] to the fig tree, but also if ye shall say unto this mountain, Be thou removed, and be thou cast into the sea; it shall be done.