Faith what is it to you, dreams, hope or your UNWAVERING Trust in God?
No doubt our faith in God Is all of that, It's much Bigger than our right now, It's beyond the NORM!
James 1:6 | KJV But let him ask in faith, nothing wavering. For he that wavereth is like a wave of the sea driven with the wind and tossed.
Test and trials are difficult enough don't make them any harder for yourself by not trusting God. 💁🏽‍♂️🤷‍♀️🤷🏻‍♂️What do you have to loose? You already have experienced some terrible things in life, you tried it your way only to fail yourself. I can just hear somebody  say, yeah but you don't know my story either. You say, "I went and supported church, paid my tithes/offering faithfully, prayed and read my bible constantly and I'm still going through. WHAT is really going on here?" But I asked, did you let faith in God make you, mold you into who He design you to be? Or are you waddling pitifully because yet there's another trial that was starring you in the face as your eyes 👀 open this morning.
Well you can't stop at Try, try harder, you can't Close the door 🚪 at I got Knocked down, get back up. And if you expect God to move on your behalf you can not stop moving along the way. One's faith can be tested best when you know that no matter how hard the test or trial is, there's a way to fix that agony in of the spirit by just letting God be who He is, GOD! If you deminish His influence or try to contain your beliefs by what you do not yet have, than you have consequently caused yourselves to regress in your pursuit to progress. Stand firm on God's word, never let go of what He's already spoken to you. You're not a quitter, and the 💨😱 forces that come up against you will not cripple your faith to the point that hope will escape you completely. It's not going to be that way, through all things God has made an way of escape for you. Matter fact what you've been praying for, is closer to you than you can imagine. Speak it, believe it, and by all means have faith in it.
RLW ministries: If your belief system hinges on what is just seen physically than you might want to re-evaluate what or who you believe in. I know it's hard sometimes to figure it all out when you have only a dime and the situation requires you to have a dollar, so you got to trust God for the 90 % despite the fact you have to give 10% tithes out of obedience. But it's not that God needs the money it belongs to Him anyways. So we must make a conscience effort and choice to release what already is designated to God's Kingdom 👑 this lines us up with His plan of provision. We must know that our faith works with our obedience and our prayers help tap us into the source of all our hopes and dreams "JESUS!"
Let's reexamine somethings, what do we expect to get out of life if we don't trust GOD's system. We put our faith in jobs, they can play out. We trust our bank accounts they run low or deplete out. We even put our faith in only our own 🏋🏽‍♀️🏋🏼ability, in which we soon find ourselves giving out. Nothing left to 🥊 fight with, not a leg to stand on we're just dangling in the wind 💨 tossed to and fro like the waves of the sea. But we must learn to put all our faith in God when He has the answer to all things seen & unseen, possible and impossible. See; that's what you call FAITH! Despite what you have, no matter what your facing even in giving your all when trials seem to get the best of you hang on. TRUST God he will not fail you. Emotionally you may feel drained, physically your fatigue level is at it's peek and your spiritual man is starving to the point he/she is desperately looking for some relief and some nourishment. You may not see it, you may not hear anybody else speak of it into your life; but you can not give up on the possibility of it happening in the most profound turnaround way in your favor this season, there are miracles headed towards you, if you just BELIEVE. 🙏RLW  ministries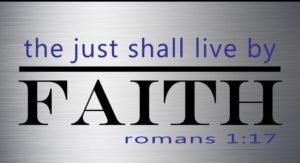 2 Corinthians 5:7 | KJV  For we walk by faith, not by sight.
Hey don't be dismayed 😩 life is full of undesirable surprises, as well as the blessings too. Just count what your going through is setting you up for your next breakthrough. If everything was all put together and you had no worries or concerns right now, what would you pray for, better yet what or even who would you be building your Faith in/on? We must understand God does not remove all 😩money issues, aches, pain, 😭attacks of the enemy right away all the time. He gives us a job/ assignment to fulfill in the mist of our going through. It builds our confidence, it adds weight to our experience, in all of it we  are to remain steadfast in our faith rain ☔️ sleet or ☀️ sun shine we know He will pull us through it.
Its all on us to not bag-down, not give up on the possibility that we're coming up out of our pit, our horrible place. Your GAME FACE must not come off. We can't  break down, give out and or give up all because we got treat unfairly, experienced some adversity so did JESUS. He didn't let it stop Him from obtaining His Heavenly Father's plan and destiny for all of our lives. If He had we would not have a chance to have Victory in our life, victory in our homes 🏡 victory in our relationships, victory on the job and VICTORY IN OUR SOULS. Total faith in God assures us of our victory to overcome. Obedience in prayer and trust in Him when it's so tough makes all the difference. Let's win, let's hope but let's put some faith on all of life's issues. Right this very moment you're over-due for a breakthrough, an increase and something new an exciting happening to you. Faith it, until God sees you through.
Has experiences in life caused you to increase your FAITH? Maybe it's inspired you to believe even though you can't see no way, that's faith!
Mark 9:23 | KJV  Jesus said unto him, If thou canst believe, all things are possible to him that believeth.