When you're overworked & Stressed out, god will send a wave of relief to bring you ouT
Life can become oppressive at times but in Jesus you will find your decompression every time
Psalms 94: 19 When anxiety was great within me, your consolation brought me joy.
Life is so strainous at times it seem to take all you have a then some. If I could just make it through the day, get past this task then things will be much better, is what I tell myself sometimes. Have you been there? Then there's tomorrow, if I can just make it to lunch 🥗  🥙 or dinner-time 🍽 or maybe make it to my chair at home then I can detox from my day for a little while. But that seems to only be a mental band-aid, you still just keep replaying all the things that transpired through out your day. Some things got done, ✅  othes things never did, so you still can't rest. Then there's that home-life situation that needs your attention that if you don't attend to it, it just will make matters worse. Seems like there ain't enough time in the day. You say, "this just can't be my constant replay of some old broken record of my life each day, Something's got to give or let up for me."
Well my friend hate to be the barrier of bad news. It gets worse at times before it gets any better. But it will certainly get better if you keep pushing through it all. You will find out that sometimes God sends a cool 🌊wave or breeze 💨in your life at the right time, ⏱ and it will refreshes your heart. He sees you and cares all about your troubles that are upon you. Don't loose hope, don't be dismayed 😩 even if it's the easiest thing to do, you can not afford too. You're chosen for such a time like this, that with your heaviest  load, under extreme pressure you maintained your composure until the time of your deliverance. You make sure to not let your faith fail you.,
RLW Ministries: Even your blessings sometimes can be taxing does not mean God didn't favor you. Yes, what you prayed for can come in a way you really can't inderstand. You begin to question all that is put upon you, was this really God? Or did I just happen to get more than what I bargin for out the deal? You say I didn't sign up for this heavy load. I need the income shucks, but the stress is whipping  my tail. Huh! Doesn't it feel like to much, isn't it a bit to much you say? The job, and pay 💰  💴 is cool, and even the hours is great but the work load is ridiculous. I know this story all to well Stress, will overshadow you. Not to mention you have life issues too that must be handled soon as you ⏰ clock out and leave the job. You become so oppressed you just don't know what to do. You go from having no job to getting a job, or dealing with heavy work task and constant overload of other assignments, and family issues that mount to more than what one person can handle. Where does one fit Ministry & God in all of this, I'm worn out? How can you get it all done ✅ without screaming 😱 or loosing your mind? You tell yourself, I'm out done I can't do this, I need more help or more pay or something. But deep down you know money want solve all your issues, just some things. Sighing, as you ponder on it, but it sure would help! Lol…😂 it would sure make it worth the while! 
We wrestle with these daily troubles on and off the job. At home we still can not dump the heavy load, it follows us even in our comfort zone. Ughhh!! We constantly deal with the pressures of life at work, school and on the home 🏠 front but how do we really cope and maintain our dignity? 🤔 One may think is life punking me? Somebody's got to be playing 🤡tricks on me right? But to the contrary, maybe your blessing is a lesson, that even though you got what you prayed for in a career/job or family life you still have to pray and continue to seek GOD in all you encounter throughout your day to day actives. Just because you are blessed does not mean the enemy will not try to oppress you in the process.
We have to remember that we must have patience, faith and HOPE, that at some point and time, God will smooth things out, this must be our daily testimony. It may not look good right now, and maybe your buried under a mountain of pressures but He soon will lift the weight off of you. You just keep doing what you do, your dedication, and perseverance will soon shine through with a brighter day 🌤ahead of you. Even though Monday morning is often less to be desired. Know that, "Your JOY cometh in the morning!" 🙏RLW Ministries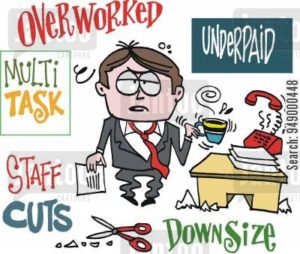 Matthew 11: 28 "Come to me, all you who are weary and burdened, and I will give you rest. 29Take my yoke upon you and learn from me, for I am gentle and humble in heart, and you will find rest for your souls. 30 For my yoke is easy and my burden is light."
Life is not easy by any means, trust me I know, and problems will not stop 🛑 coming all at once. But you can not push pause or reset, fast forward or rewind in any of the process. Guess you say WHAT, I digress then, is there any use? Should I give up hope in all I do. Is my best even good enough, seems like giving up is my best option. But if you just stop for one ☝️ minute reconsider, maybe you can handle more than you know, or thought you could. Your time in the trenches did not break you, your struggles through the pain did not destroy you. There's still more depth to you, more than what people really realize about you. You're not fighting ⚔️ this battle 🥊 all by yourself. Regardless of what  Life looks like, the enemy will not get the best of you. You've been armed with the armour of God. Keep holding up your SHIELD 🛡 of Faith that time will bring about a change in due season, you will conquer it all , in JESUS name it's already won.
I know the odds are stacked against you, they just keep piling it upon you. The weight ⚖️of the world 🌍 is on your shoulders, but even in all of that, you are becoming stronger. Don't give in to the pressures, don't throw in the towel, God is not through building your bridge to deliverance. So just tie a knot in the rope and continue to hang on. Don't let stress, worry, pain, affliction keep you from trusting the God you serve. He will not let you down, you just make sure you don't disappoint yourself in the process to your glorious VICTORY in the end. Although you're heavy burden, you are designed to always win every trial, and every test.
Psalms 118: 5 When hard pressed, I cried to the LORD; he brought me into a spacious place.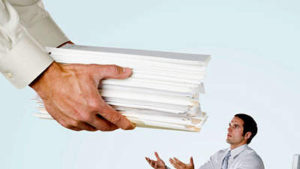 No burden, no worry, no task, no problem is any match for the GOD we serve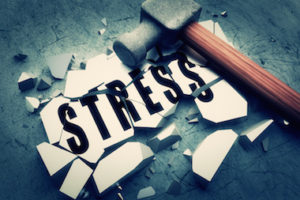 Romans 16: 20 The God of peace will soon crush Satan under your feet. The grace of our Lord Jesus be with you.