Even when Life takes you on a Unfamilar path, and leads you into untrodden terriTory, you're still not ever traveling alone
Your in GOOD company with God wherever you go. No place is too dark, too isolated nor too abandoned where He doesn't go with you each step of the way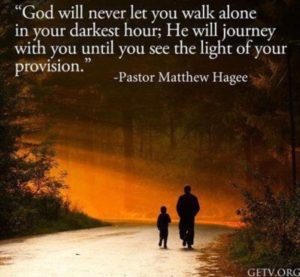 Joshua 1:9 KJV Have not I commanded thee? Be strong and of a good courage; be not afraid, neither be thou dismayed: for the Lord thy God is with thee whithersoever thou goest.
I can just see a mental picture of some of my own life experiences were my knees were just knocking and buckling under pressure afraid of what I was facing. Yes, I lacked FAITH! Don't we all sometimes? When we are looking ahead towards a dark tunnel and we don't know what's on the other side of through. It's a common phenomenon, it's a faux pas the enemy wants to take that opportunity to cripple our faith. But it's in our trying times, and our most uncertain times that GOD desires to totally increase our faith. You may walk alone on life's journey but you're never Alone! I know it looks scary, SHUCKS, it's a bit gusty and darring a lot of times but your constellation is, you are grounded by good doctrine that teaches you to trust God not what your surroundings tend to dictate. The rigorous environment your in may be uncomfortable 😣 it may be a little bit uncontrollable but your arrival is not predicated upon what things look like, God has secured a safe travel that you will not be delayed.
Make no mistake about it, this journey your on has been unbelievably difficult. You didn't get here over night and you didn't have it easy at no given moment but you are sure to make it though all things that tried to steal away your faith. Know that your prayers were answered, your problems were assessed and your solution as a due date. No matter how many times the enemy has tried to get in your way, God says you will surely see a BRIGHTER day! 👍 This one thing I'm for certain of, the sun ☀️ will shine again your way, sending a ray of HOPE, on what seems like continues dark days. Your gloom and doom days will soon be a distant memory because your God shines His favor and glory upon those who trust in His plan that He is always holding our hand through tough times of sorrow and dismay. You will come out of that dark place, that lonesome tunnel and receive your blessing on the other side designed to increase your faith that things will surely change for the better and go your way.
RLW Ministries:In life we sometimes get that unsettling feeling that we're so small in this HUGE very unfair Adult 🌎 world as if we were kids again. Uncertain, inexperienced, uneasy about our surroundings and where we are headed. It's perfectly normal to be afraid 😱 but to be unhinged at the seams is something altogether different. It's so important that we remain calm in uneasy circumstances, it allows to operate in Faith, not in Fear!The bible tells us in the book of Psalms, "for thou art with me even in the valley." I know the sun ☀️ shines in low places, but when you traveling alone you can feel abandoned even though your vision sees birds 🐦 chirping, trees blowing leaves 🍁 off of many colors; alluting to the fact things are ok. Your faith can still seem so deem, so deminished even in the cool of the day. We often wonder sometimes, is God still there? Is He still guiding me through this unfamiliar season of life?
But we should never question His concern, His provision, His direction and His constant comfort in all life's situations. God is forever right by our side through each step we take He has cleared a safe path for our daily journey. The cool thing about GOD is He's like a good parent, letting us experience some knee scraps, some temporary falls but rest assure He always picks us right back up again and again dusting off the debris and healing our wounds along the way. Your in the ark of Safety because He will never let go of your hand 🖐🏽 🤚🏻. Know that God will never leave us nor forsake us no matter how alone we feel, you have JESUS as a constant companion and friend. On lifes most secluded journey God sees you through every danger, coaches you through every trial and gives you Victories through every test. He's truly there to make sure you reach your preordained DESTINATION, no what you're facing or what you're up against God is right there by your side. 🙏RLW Ministries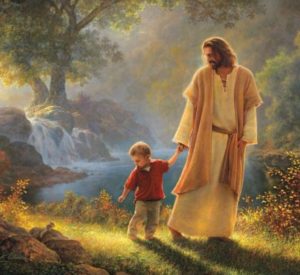 Psalms 24:4 Yea, though I walk through the valley of the shadow of death,
I will fear no evil: for thou art with me;
thy rod and thy staff they comfort me.
There's nothing like a compass 🧭 it gives us a sense of direction, but it's even better when we have navigation through our smart devices such as a cell phone 📲 which gives us instant voice GPS. Ain't it funny 😄 how we trust man made devices more than our own faith in God. Don't we know it's He who created the NORTH, SOUTH, EAST & WEST? When we are traveling 🧳 with our Creator there is no getting lost, no getting off course because God sees our ending before we even start our beginning, guiding our every step we take. Now that's the CAPTIAN I want steering my ship 🚢 out on life's ragging seas 🌊. It's impossible for God to take a wrong turn, loose He's sense of direction or become afraid in any given set of circumstances whether hazardous or calm God knows the way. He's so in control, He was sound asleep in the bottom of the ship while the disciples were up deck being tossed by the treacherous waves 🌊. JESUS, still makes the storm ⛈ of life behave. Know that He never looses His cool come what may. It is God's will that we adopt that spirit of confidence that everything will be A OKAY 👌.
One thing we can be sure of our Father in Heaven cares about everyone and everything we have to face each and every day. So don't be misguided by what negative people say or what doubt may try to bring your way. Trust God He has a plan, to increase your faith in Him. He will see you though the bitter end. When life toss you in a world 🌎 of frustration, leaving you isolated and more confused 🤷‍♀️ 🤷🏻‍♂️ than the first day you begin your expedition of faith, know that God's handiwork is orchestrating your every step you take. He is Omnipresent so you're never ever by yourself. Trust His 🖐🏽 hand, trust His words 🗣and always be familiar with His voice keen to listen to Him speak life into your darkest day. Your not dying, your not lost, never will you be destroyed in your pursuit to reach your PURPOSE. God has already made it all possible and nothing will hinder you or stop 🛑 you from getting to that glorious place.
Isaiah 43:2 When thou passest through the waters, I will be with thee; and through the rivers, they shall not overflow thee: when thou walkest through the fire,thou shalt not be burned; neither shall the flame kindle upon thee.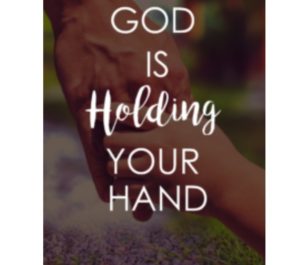 Let FAITH take you where your mind tries to limit you. There is where your heart will have true contentment with Jesus, knowing He is always holding your hand
Psalms 31:24 Be of good courage, and he shall strengthen your heart, all ye that hope in the Lord.